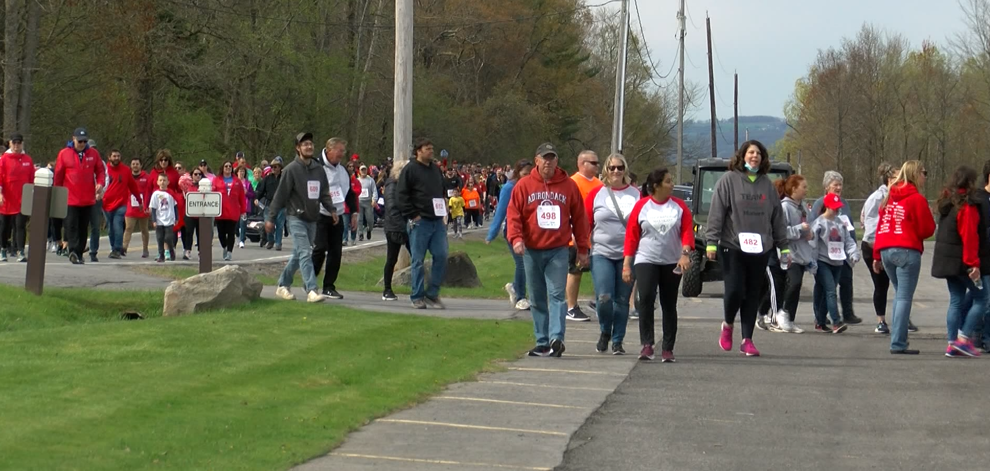 WHITESBORO, N.Y. - After a two-year hiatus, America's Greatest Heart Run and Walk kicked off this morning at Accelerate Sports Complex in Whitesboro. Organizers say $420,022 has been raised so far and donations are welcomed until June 30. 
This is the first time and location of America's Greatest Heart Run and Walk. In 2020, the event was held virtually. Participants were able to join a 5-mile run and a 3-mile walk early Saturday morning. 
The money raised will go towards funding research, education, and advocacy programs relating to heart health. Organizers say they're already funding two research project at Masonic Medical Research Institute that focuses on if congenital heart disease is linked to autism. 
A group of heart disease and stroke survivors are chosen every year to serve as spokespeople for America's Greatest Heart Run & Walk. 
Ryan LeoGrande, Red Cap Ambassador for this year's Heart Run and Walk was diagnosed with atrial fibrillation (AFib) when he was 30-years-old. Although it wasn't an urgent matter to him at the time, LeoGrande says he took his condition seriously after passing out and being treated medically. 
"It's important to pay attention to your health at any age, just because you're young doesn't mean you don't have to be healthy, eat healthily, and exercise...be proactive, not reactive," said LeoGrande. 
To donate, click here.