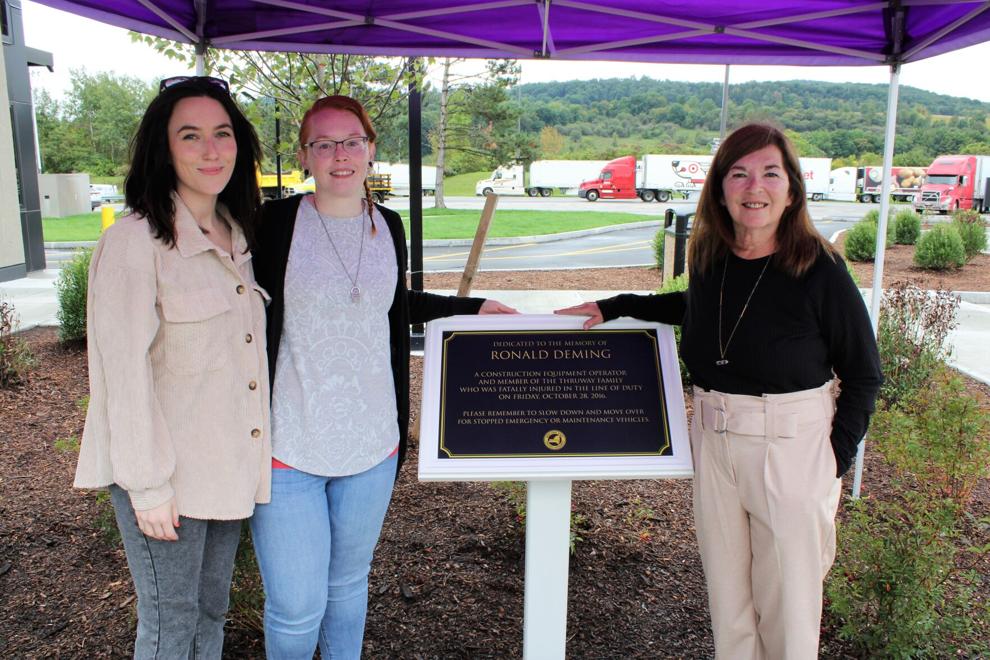 A memorial was unveiled Tuesday in honor of a longtime Thruway maintenance worker who was killed on the job in 2016 when he was hit by a vehicle while helping recover a car on the shoulder of the Thruway.
Ron Deming worked for the Thruway Authority for 20 years in the Herkimer maintenance section. His wife, Sally Deming, has been an advocate for the enforcement of New York's Move Over Law since her husband's death, and was there to reveal the memorial Tuesday.
"Ron Deming was a dedicated co-worker, husband, father, son, and friend who was a valued member of the Thruway Authority and the community, who lost his life while simply doing his job," said Matthew Driscoll, executive director of the Thruway Authority. "I would like to personally thank Sally for her devotion to spreading awareness for the Move Over Law and work zone safety in the hopes that other families won't ever have to go through what her family has endured."
The plaque was placed at the Indian Castle Service Area in Little Falls.
The memorial is meant to honor Ron and remind people to be cognizant while driving in work zones.
"Ron never got to meet his grandchild or enjoy retirement with his family. I am thankful for this new memorial, and it is a reminder that all roadside workers want to go home to their families each night. Sadly, not all have been so fortunate," Sally said.
Another memorial is also planned at the Iroquois Service Area, also in Little Falls. It will be installed when the new facility is completed.