New York Gov. Kathy Hochul signed legislation Thursday to expand and simplify access to the federal Public Service Loan Forgiveness program.
PSLF provides cancels a portion of student loan debt for public servants like teachers, first responders, military members, health care workers and government employees after they make 120 monthly loan payments.
The legislation removes barriers to PSLF by:
Clarifying the legal definitions of key terms such as, "certifying employment," "employee," "full-time," "public service employer," "public service loan forgiveness form," and "Public service loan forgiveness program;"
Setting a standard hourly threshold for full-time employment at thirty (30) hours per week for the purposes of accessing PSLF and clarifying standardized prep time to be included in such calculation for faculty and teachers; and
Allowing public service employers to certify employment on behalf of individuals or groups of employees directly with the U.S. Department of Education.
"If you spend your days working for the people of New York, you shouldn't spend your nights worrying about how to pay us back. This legislation acknowledges the significant contributions of our public servants, first responders, educators and more, by helping unlock federal loan forgiveness for countless members of New York's workforce," Hochul said.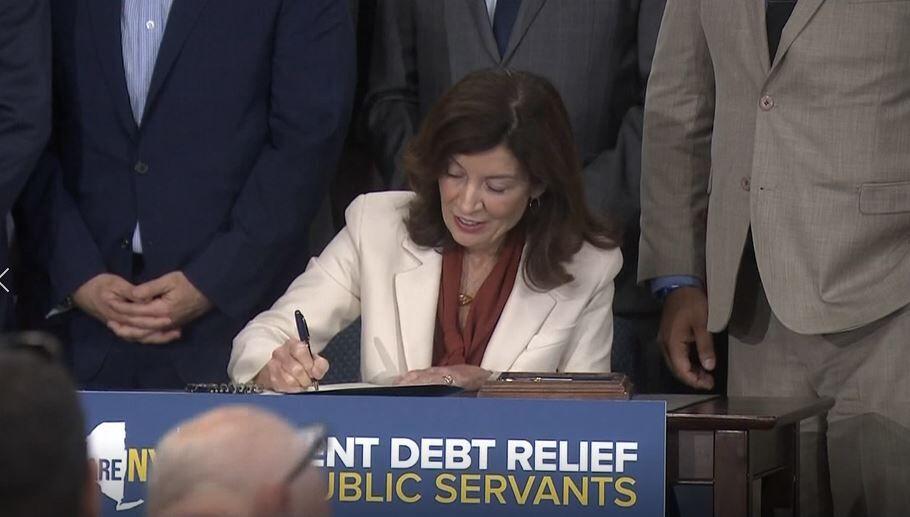 The U.S. Department of Education also launched a waiver program in October of 2021 which allows borrowers to count payments or repayment plans toward forgiveness, including those that were not previously eligible. Those who work in government or for a nonprofit may qualify for the waiver program even if they were previously denied. The deadline to apply is Oct. 31.
For more information, click here.