The new year brought a new development for NUAIR and the New York State UAS Test Site at Griffiss.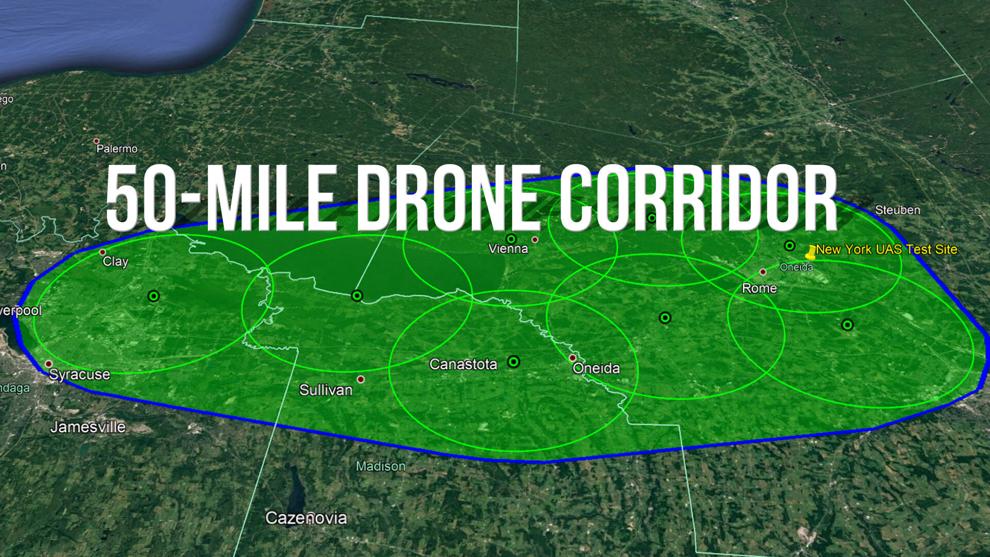 The Federal Aviation Administration gave the go-ahead to test unmanned aircraft systems or drones beyond a visual line of sight in a 35-mile stretch within the 50-mile drone corridor.
We spoke with Tony Basile, the Chief Operations Officer at NUAIR about this development.
Basile says this is years in the making and required the clearing of several hurdles.
"This whole industry has been waiting for beyond visual line of sight authority so that the Amazons and Walmarts of the world and everyone else can delivery your packages right to your house," he said. "We're not there yet, but what we have just been approved for helps it get to that point."
Test sites like the one at Griffiss will help the FAA safely integrate drones into the national airspace through research.
Before the approval for BVLS in January of 2022, NUAIR and the New York UAS Test Site needed a pair of eyes on drones outside an eight-mile stretch that runs from Griffiss in Rome to the Emergency Preparedness Center in Oriskany. That was the only stretch that previously had approval from the FAA to fly drones beyond visual line of site at that point.
Getting the approvals is no easy feat.
"I submitted for 50 miles back in 2018," Basile said. "The FAA laughed at me, so I've had to build this in piecemeal."
In 2019, the eight-mile stretch was approved. It's been small steps and has taken years, but the research implications and purposes are endless.
"This year, I was given this circle over the lake, which we are doing harmful algae bloom mitigation and detection," Basile said. There's also the stretch over the Erie Canal which is used for research and monitoring for the New York Power Authority.
The process starts with pages of planning and making a safety case and laying out a concept of operations. Those plans get reviewed by boards comprised of dozens of team members from the FAA in stages.
The research that ends up getting done helps both researchers and the FAA.
"Giving the FAA more data and having those companies that are testing their 'detect and avoid systems', that's the whole reason that New York built this corridor," Basile said.
Folks living along the canal heading west toward Oneida Lake may notice activity overhead over the canal.