UTICA, N.Y. -- On June 30, a storm took down a tree that crushed a house on Bryant Street in Utica. Joe Lints was inside the house at the time, but had no idea what was about to happen.
"Well this storm start getting a little bad. I heard the hail, so I said to myself well you know I think I'd better go shut my front door because it was hitting pretty hard," he said. "As I was going to my front door, that's the last thing I remember."
The tree and the house came down on Joe, pinning him to the floor.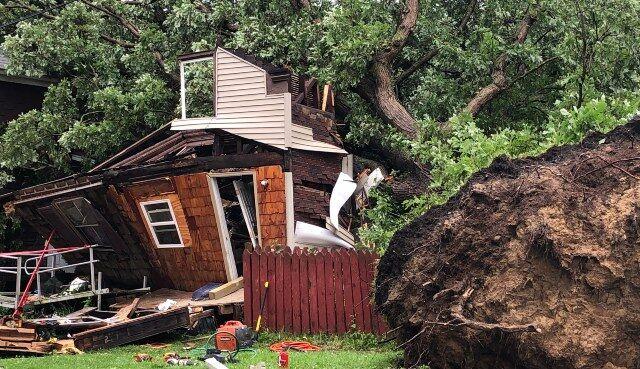 "I think I got knocked out by my ceiling hitting me in the head, and when I woke up my head was way down here between my legs, and I couldn't get back up. So I started yelling for help," he said.
A neighbor heard the call for help and tried everything he could to free Joe, but the weight of the tree and the house on top of him was too much.
"I mean he gave it everything he had….(and you were pinned?) Yeah……"
This isn't the first stroke of bad luck for Joe. Four years ago he broke his neck in a motorcycle accident. The destruction this time caused massive injuries to his lower back, breaking bones and leaving him partially paralyzed. He now requires help from his brother and family to get him around in a wheelchair. Joe's Brother Michael Lints talked about Joe's misfortunes. 
"He didn't have health insurance in the motorcycle accident, and no homeowners insurance in this accident, so the poor guy's really in a tough spot right now."
Joe's in a tough spot financially, but mentally as well. He doesn't know how he's going to pay for his medical bills, and has had to leave his home of 27 years to go live with his father. The one thing he does have going for him is his dog that his brother was able to save from the wreckage.
"Me and my girl have nothing you know what I mean. We have our lives, and my dog you know. My brother got my dog out of there. That means the world to me. Every time I see her she's a breath of air boy."
Michael Lints see's his brother every day, and can see the toll it's taking on him. 
"Four years ago the motorcycle accident, and now this," he said. "The poor guy. Oh man. He's had some bad luck."
Right now that's not the way Joe's seeing it. "This ain't luck…"
Doctors are going to do what they can to repair the damage to Joe's back. If you'd like to help Joe, you can contribute to a gofundme page set up in his name here.