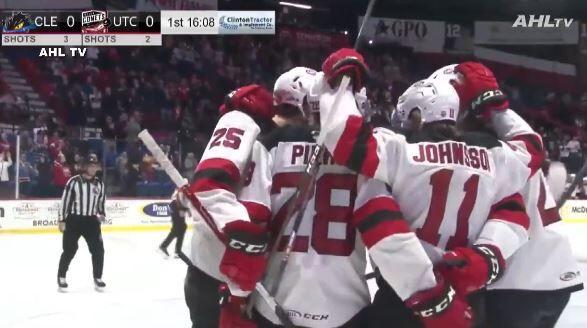 UTICA, N.Y. - The Utica Comets opened Halloween weekend putting a scare into the Cleveland Monsters, beating their North Division opponent for the second time in the span of a week, winning Friday's game 5-1 at the Adirondack Bank Center.
Utica got on the board first just 3:52 into the game with Andreas Johnsson getting the puck back on the wall after getting stopped point blank, then feeding it to the slot where Brian Pinho tipped it in to give the Comets a 1-0 lead. Dylan Blujus registered the second assist on the goal.
Just over ten minutes later, the Comets expanded their lead as a power play expired with Samuel Laberge beating Monsters goalie Pavel Cajan on the short side for his first of the season, with the assists going to Clark and Nemec.
With his first AHL point under his belt, Nemec decided to notch another milestone in the second when he snapped a shot, from the high slot, inside the post on Cajan for his first AHL goal at 14:13 to give Utica a 3-0 lead. Nick Hutchison and Michael Vukojevic earned the assist on the rookie's special goal.
A Emil Bemstrom goal at 17:03 would get Cleveland on the board so the Comets left the ice after two periods up 3-1.
Reilly Walsh then helped Utica re-gain a three-goal lead when he blasted a one-timer, off a feed from Johnsson, short-side on Cajan for a power play goal. Jack Dugan notched the secondary assist on Walsh's goal before putting in his own, on an empty net, at 14:58 to put the Monsters to bed.
Akira Schmid made 23 saves on 24 shots in the game, as the Comets improve to 2-2-0-0 on the young season.
The team returns to action on Saturday night where they'll host another North Division opponent in the Toronto Marlies. Puck drop is at 7 p.m., and you can catch a live broadcast of the game on WKTV-NBC.