Tuesday Night: Isolated lake-effect snow. Upper 20s.
Wednesday Morning: Mostly cloudy. Upper 20s.
Wednesday Afternoon: Snow. Snowfall rates up to 1" per hour possible. Lower 30s.
Wednesday Evening: Lingering snow showers. Upper 20s.
**Tomorrow is a Stormtracker2 Alert Day**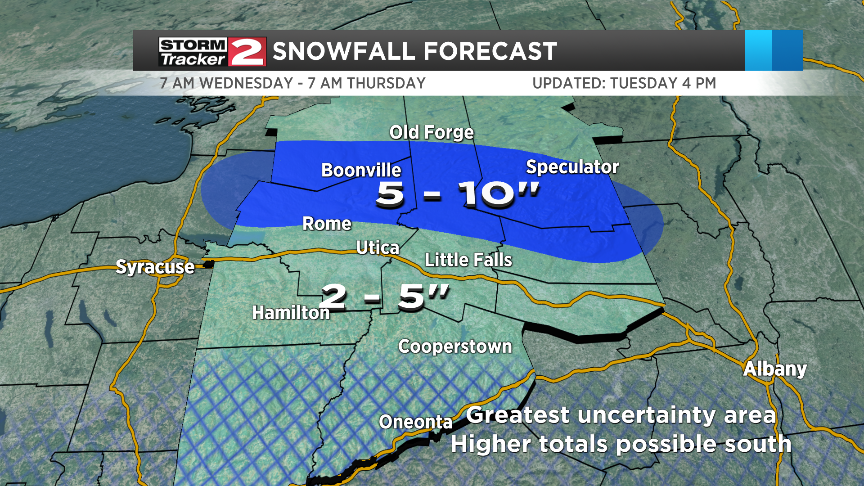 Lake-effect snow continues for some areas this evening. Our attention tonight is for the weather expected tomorrow. A low pressure center following a western track will be moving into the area. This will bring a quick burst of heavy snow from the leading edge of the front into CNY. Locally warmer temperatures in the Mohawk Valley could keep initial precipitation as rain before heavier snow moves in. For now, the snow looks to arrive by the late morning. Be careful of poor visibility and rapidly deteriorating road conditions for a few hours in the early afternoon.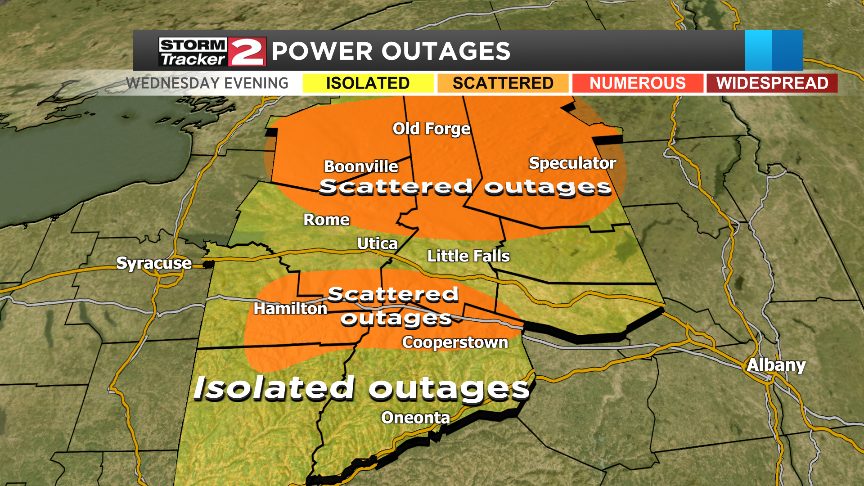 Our concern after this initial snow then turns to scattered power outages, primarily focused on higher elevations that already have accumulation of ice and wet snow on trees and power lines. Wind gusts tomorrow in higher elevations could reach 50 mph, and could last for several hours. Those of you in the Mohawk Valley will see less intense gusts max 30 mph. Along with the wind gusts, we could see freezing rain and a wintry mix as warmer air follows the snow north. Due to lifting over higher terrain, the highest snowfall totals at the end of this event will be directly north of the Mohawk Valley.