Last night's nor'easter was an overachiever across our area, turning north and west and bringing the heaviest bands into Central New York. Many areas east of Utica picked up 8-12" of snowfall. The jet stream is now lined up right along the Atlantic Coast, which is a highly favorable weather pattern for more winter storms. The next one arrives on Wednesday.
Before we get there, we do have some light snow to track tomorrow. As last night's nor'easter departs into the Atlantic, it aligns the winds into the northwest. This kicks off some lake effect snow showers. For most areas, little accumulation is expected. Still, there looks to be enough to brush off the car or do some light shoveling, especially north of the Mohawk Valley. Here's a look at the snowfall forecast: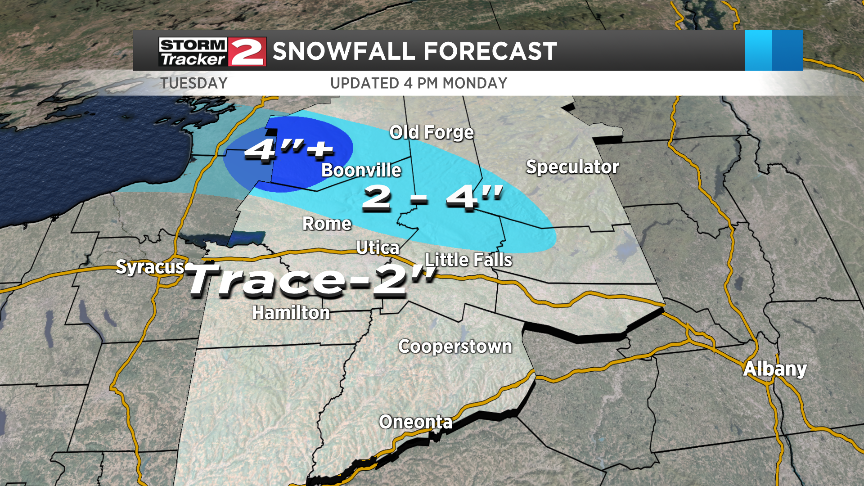 The next wave of low pressure arrives on Wednesday. The primary low looks to track inland, meaning another wet snowfall is expected, possibly mixing with sleet and freezing rain south of the Mohawk Valley. The higher elevations north of the Mohawk Valley could pick up several inches of snow from what's called 'upslope snow'. A south wind produces heavier accumulations on south facing hills as surface winds lift. Here's a look at the snowfall forecast: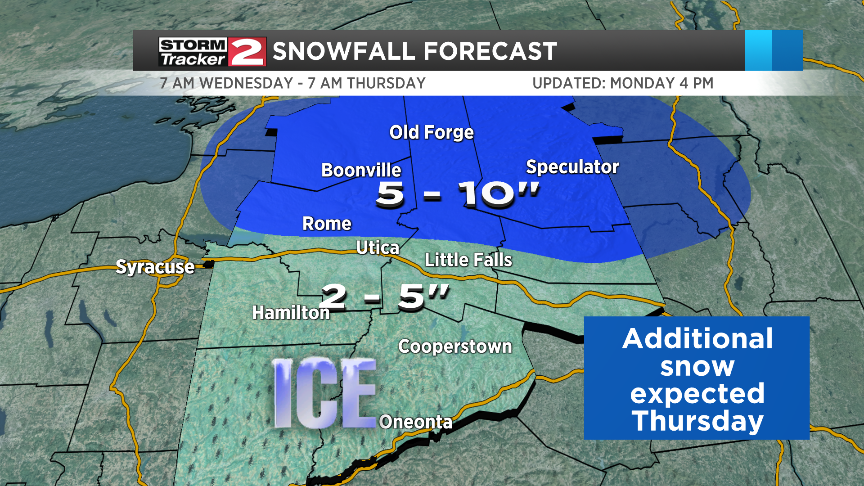 A big concern is power outages and tree damage in higher elevations. The recent wet, sticky snowfall combined with ice has caked trees in a thick rime ice. With temperatures remaining below freezing, this rime has not melted. We're concerned that more wet snow accumulates on these surfaces and winds pick up Wednesday and Thursday. Here's an image of that rime ice in the trees outside the TV studio.
More snow is expected on Thursday as the low departs, leaving behind lake enhanced snow showers. We get a chance to dry out on Friday, before another wave of low pressure swings in over the weekend. More on that later this week.