Travel will continue to be tricky in Central New York Monday.
Sunday's ice accumulation caused significant travel issues across the region.  Freezing rain will very slowly change to rain this afternoon, as temperatures slowly climb above freezing. Improvements in road conditions will follow. 
A cold front arrives this evening and will bring a burst of snow to the region. The cold and wind to follow will set the stage for heavy lake effect snow Monday. Here's a look at the snowfall forecast: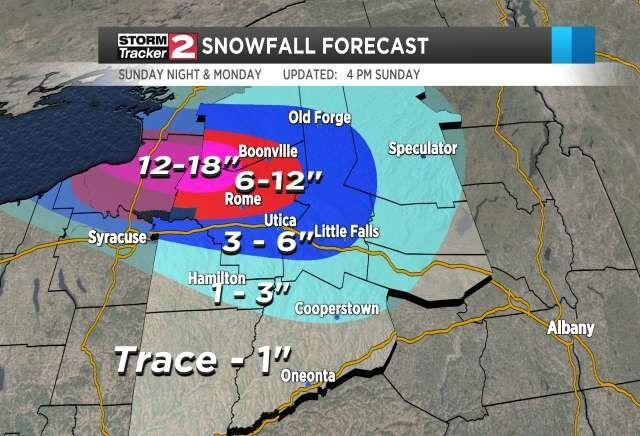 The band is expected to stay primarily north of route 20 throughout the day. The most likely spot for heavy accumulation looks to be in the Tug Hill portion of Northwestern Oneida County. The northern half of the county is expected to see snowfall rates between 1-3" per hour throughout the day.  Expect poor visibility throughout the day in the heart of that band, with very tricky travel.
Lake effect snow ends Monday night, as an arctic front arrives from the north.  This will cause the lake effect band to drop south and weaken Monday night.  Bitterly cold temperatures will follow for Tuesday morning, with temperatures starting out well below zero.  Highs on Tuesday only in the single digits.